This article is about the game, for the monster see Oceanhorn.
Oceanhorn: Monster of Uncharted Seas is an action-adventure video game for iOS devices, published in November 2013 by the Finnish game studio Cornfox & Brothers. The game was later released on other platforms including PC, Xbox, PS4, Android and Nintendo Switch. It focuses on a boy protagonist's quest to find his lost father and defeat the sea monster Oceanhorn.
The gameplay and graphic design of Oceanhorn closely follows that of the Legend of Zelda video games, notably The Wind Waker and A Link to the Past. Players explore dungeons, fight monsters with various weapons, and throw pots and cut bushes to find hidden coins or hearts. The music of Oceanhorn was composed by Nobuo Uematsu and Kenji Ito. The game is currently sold in the Apple App Store for $8.99/£5.99. It is available on the Google App Store for £4.99 and on Steam (PC) for £10.99.
Oceanhorn currently has a Metacritic rating of 92/100, making it the second-highest scoring iOS game of 2013.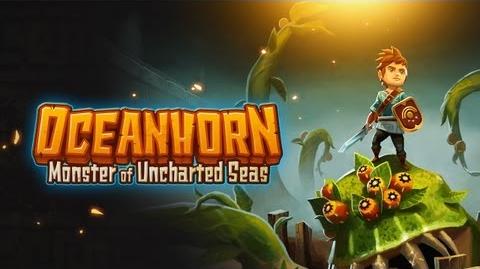 Community content is available under
CC-BY-SA
unless otherwise noted.